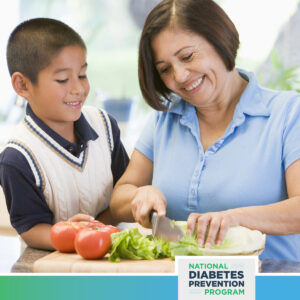 "Sometimes we get so used to our traditions, it becomes hard for us to change. But we need to live a healthier life," says Elvia Alcala. National Hispanic Heritage Month, September 15 – October 15, is a great time to start!
As a lifestyle coach with the National Diabetes Prevention Program (National DPP) lifestyle change program, Elvia helps her Hispanic/Latino community understand that they don't need to abandon their traditions when celebrating their Hispanic heritage in order to achieve or maintain health goals. She shows people with prediabetes how to make healthy food and activity choices to lower their risk for type 2 diabetes.
Type 2 diabetes is a serious disease that can lead to other health conditions such as heart disease, vision loss, and kidney disease. Hispanics/Latinos are more likely than other groups to have prediabetes, which is when a person's blood sugar levels are higher than normal, but not yet high enough for a type 2 diabetes diagnosis.
The good news is that type 2 diabetes can be prevented or delayed by making lifestyle changes, such as eating healthier and being more physically active. When it comes to balancing family traditions with these changes, there are many options! For example, modify an existing tradition by preparing your family's favorite meal in a healthier way, like using the tips and recipes in the Tasty Recipes for People with Diabetes and Their Families booklet. Or start a brand-new tradition, like having a dance party after dinner to get up and get moving as a family.
"It's important that we all understand why these changes are needed, which is for prevention," explains Elvia. "We don't want to end up with type 2 diabetes."
Making healthy food choices, being more active, and supporting family members with prediabetes to lose a few pounds are all ways you can start a new family tradition for better health – and show the next generation that type 2 diabetes doesn't have to be their future.
During this National Hispanic Heritage Month, if you think you may have prediabetes or may be at risk for type 2 diabetes, talk to your doctor or learn more about Change Your Lifestyle. Change Your Life. (CYL2), right here in Tuscaloosa and surrounding counties. CYL2 helps people with prediabetes change their lifestyle to improve their health. Participants work with one of our trained lifestyle coaches and share experiences with others who have the same goals and challenges. This program is also available online! Many who have participated in the program say they have more energy, less stress, and better checkups. Signing up with your family can help you create a new, healthier family tradition!